The Delta Police Department is a full-service, professional law enforcement agency that adheres to a community-policing philosophy.  Working in a continued partnership with our community, our goal is to provide the services our community deems important. Dedicated to service and committed to excellence, focusing on the following core values:
Integrity
We hold ourselves accountable to the highest level of honesty, truthfulness and ethical conduct.
Pride
We take pride in ourselves as individuals, our division as a team and our citizens as a community.
Respect
We will ensure that all persons are treated with equality, dignity and courtesy.
Professionalism
We are committed to the highest level of professional standards through development of highly trained and motivated employees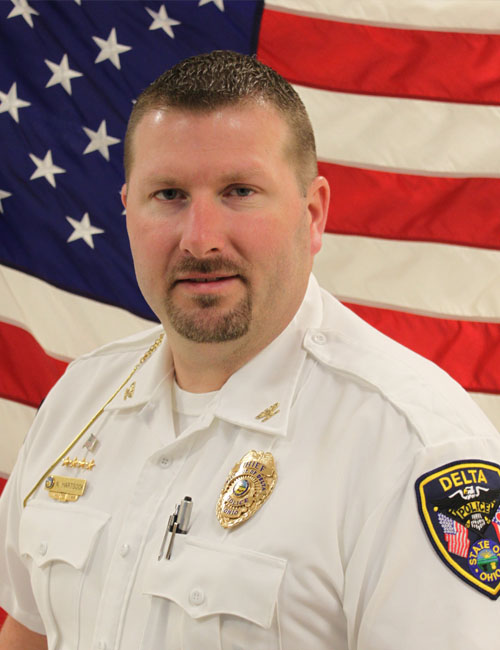 Police Chief Nathan E. Hartsock
Contact Information
Address:
Police Department
421 Fernwood Street
Delta, Ohio 43515
Phone & Fax:
Phone: 419.822.3232
Fax: 419.822.0305
Email:
police@villageofdelta.org
The Department consist of the full-time Police Chief, 2 Sergeants, 4 full-time and 2 part time patrol officers. In addition, the police department employs a full-time civilian records clerk/secretary. Full-time dispatching services is provided through the Fulton County Sheriff's Office. The Police Department can be contacted 24 hours a day on a non-emergency basis, by contacting 419-822-3232 or in the event of an emergency call 911. The standard hours of operation for the Police Chief and records clerk is generally Monday through Friday 7:00 AM to 3:00 PM
The Delta Police Department is under the jurisdiction of the Eastern District Court for any adult misdemeanor and traffic offenses, Fulton County Common Pleas Court for felony issues and all juvenile cases are submitted to the Fulton County Juvenile Court. Legal Services are provided by Heban, Murphree and Lewandowski of Rossford, Ohio.
Being a relatively young Agency, the Delta Police Department was officially created with the passage of Ordinance #811 passed on October 18, 1965. 
Since its earliest recorded beginning in 1965 the Delta Police Department continues to provide police services to the Village of Delta, with its current population of 3,132 citizens. The Police Department, a twenty-four hour a day, seven day a week operation.
One of the part-time officers, in addition to his other duties, is dedicated to assisting the Zoning Administrator in investigating and mitigating nuisance problems such as policing junk, unlicensed, and/or inoperable motor vehicles; un-mowed grass and weeds; keeping sidewalks clear of snow; and the cleaning of accumulations of junk, refuse, and/or garbage at residences and businesses.
To address the need for adequate space, in September of 2002 the Police Department was moved from the Memorial Hall at 401 Main Street where it had been located since 1965, to its current location at 421 Fernwood Avenue.
The Police Department currently maintains four marked police vehicles. Of the four vehicles the two primary patrol vehicles, currently a 2019 and 2017 Police SUV's, are both equipped with both Radar and Lydar speed enforcement units, mobile data terminals, in car video systems, AEDs, and recently, patrol officers began carrying Naloxone, an opioid inhibitor to counter the effects of opioid overdoses, in addition to the other routine patrol vehicle equipment. The two back-up/support vehicles are currently a 2015 SUV and 2008 Ford Crown Victoria. Also the Department utilizes an AM General military HMMWV (Humvee) that was acquired through a program through the Federal Government that provides surplus military equipment free to law Enforcement agencies. The HMMWV is used for parades and as a disaster relief vehicle mainly in the winter months to support all emergency services in the Village and around the County. The Department also deploys a bike patrol unit, which is an important part of the Department, not just on a public relations standpoint but to assist uniformed marked patrol units in day to day operations and those areas that may not be accessible to full sized patrol cars.
In an effort to protect and provide a sense of safety and security to the citizens of the Village, the officers of the Police Department maintain a frequent and conspicuous presence as they patrol all of the areas within the incorporated limits of the Village of Delta and adjacent properties owned by the Village ensuring compliance with all applicable State Laws and Village Ordinances. Delta Police officers are required to take a problem-solving approach to situations encountered on a day to day basis and to interact with citizens of and visitors to the Village with respect and professionalism.
Past Police Chiefs
Ernest Brown
October 18, 1965 – September 1, 1972
Robert Taylor Jr.
September 1, 1972 –
Dan Nichols
Garry Chamberlin
December 18, 2000 – December 31, 2010
Richard Sluder
January 1, 2011 – October 1, 2013
Nathan E. Hartsock
October 1, 2013 – Present